Kjeldhal Automatic Nitrogen Dual Distillation System Model: ULTIMA DUO DIST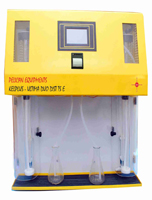 Fully Automatic Value added higher end touch screen Auto sequencing PC compatible Dual Distillation System (Economic & Premium Versions)
No Of Samples : Two at a time
* Mode Of Operation : Single/both simultaneously,
* 4.3" colour Touch screen Module
* Auto display of schematic flow chart of stage in progress.
* Flow diagram display of auto sequencing steps
* Independent Stainless Steel Steam generator, Expansion vessel and water condensor
* Independent Auto distillate control unit in each
* Facility to program and control distillate volume for determination of available Nitrogen.
* Incorporates automatic distillate controll facility in which predefined volume of distillate can be set in the system at the receiver end.
* Automatic Addition of Receiver solution addition, Dilution, KMNO4 addition, Alkali addition, Steam addition, Residue removal, process over indication, Titration Connectivity feature, Aspiration of receiver residue
* Automatic reagent level sensor with alarm
* Auto tube insert error indication
* Auto deactivation of system on error diagnosis
* Automatic door open warning indication
* Auto online water saving mechanism
* Inbuilt strategically placed vent valves to avoid back suction
* SMPS System for 12V power supply to give regulated voltage
* Electrical components rack mounted and Isolated from alkali and water carrying parts,
* Inbuilt Automatic Printer with communication software for documentation of results without connecting to PC
* Results will be calculated automatically in terms of percentage of Protein, Nitrogen, Total Nitrogen, available nitrogen, etc on input of titre value.
* Automatic sensing of no water condition in the condenser & Steam Generator with auto alarm and warning signal to alert user.
* Auto deactivation of operation after few minutes of warning on "No water Condition" in case of user non availability in condensor & Steam Generator
* Automatic monitoring and measuring of high temperature in distillate with temperature display & platinum sensor for auto warning signal and safety alarm to control distillate temperature
* Continuously measured temperature is displayed digitally.
* Peristaltic pump for addition of reagents.