Our Profile
Genesis of our Success Story Early in 1991, the vision of two instrumentation professionals, to offer the agricultural and biological researchers, products and solution totally indigenous in par with imported alternatives gave birth to "PELICAN EQUIPMENTS". It was a humble beginning with crude and raw technical ideas, a playful passing thought of two professionals to begin products for Protein, Fat and Fiber estimation to challenge the foreign principals.
INDIA had to lose lot of money on foreign exchange till 1991 in importing sophisticated N2 Analysers. In India, the pioneering efforts and the innovative vision of two instrumentation Chemist in the year 1991 July sowed the seed to the nation with their indigenization efforts introducing Import Substitute product of Automatic Kjeldhal Nitrogen protein Analyser in par with those of the alien ones manufactured abroad giving birth to KEL PLUS Automatic Nitrogen Analyzer from PELICAN EQUIPMENTS, CHENNAI.
The simple ideas later bloomed into a serious think pad carrying us a step forward to venture with risk to make a maiden pioneering effort to manufacture Automatic Nitrogen Estimation System in India.
Today India has more than 1500 installations of automatic Nitrogen Analysers manufactured from the mother land.
Our Three-Tier Mantra
Professionalism
Professionalism has been the foundation of our success. It has been our way of thinking and life - Applying Scientific knowledge to our work.
Trust
Trust is something we earned over time, not through our words but through our actions - as a Trust Worthy & Customer Oriented Organization.
Motto
Our Motto: "In Pursuit of Perfection - In all that we do". Perfection is our Goal. Excellence can be tolerated.
Our Team
(Together Everyone Achieves Maximum)
Pelican has grown into a professionally managed organization with independent Marketing Department, Customer Service, Production Department, R&D wing, all backed by untiring support team.
Marketing Department
Marketing Department with dedicated team of qualified engineers works aggressively round the clock to meet the customer requirement and their queries. Pelican has won the hearts of many scientists building a strong Industry-Institution relationship supporting and associating in various academic programmes. Pelican has made extensive coverage of India with regional offices at the metros supported by satellite offices at North, West, East and North East India.
Born to Serve
We have not only won Titles and Credentials but also relationship that lasts long fulfilling our presales commitment as a trustworthy customer oriented organization, excelling in our after sales service. Over 1500 satisfied users have never regretted for making the right choice to buy KEL PLUS. The spirit of our service Department is always high working round the clock to live up to our customers' expectation.
Production Department
With zeal for Quality and Perfection, Pelican is always committed to producing better products with greater safety which has stood the test of time. Qualified skilled engineers are trained to match the technology that travels with time. All the Products of Pelican are subject to stringent testing and quality control measures. The incoming raw materials and semi finished components are put into quality checking as per QC testing plan. The products are carefully packed with sufficient shock proof cushioning with polyethylene foams to ensure safe delivery.
R & D Wing
The R&D wing with quest for continuous improvement strives with ongoing research to keep pace with latest technology. The analytical chemists of R&D department extend their technical and application expertise to train and support the valued users.
Support Team
The efficient backing of the support team working round the clock has helped other departments to perform and achieve national reputation as a market leader. The support team strives towards perfection in meeting the presales requirements and post sales commitments including logistics, delivery, liasoning, etc with a proper frame work efficiently coordinating making both ends meet for a win-win strategy.
Quality : Never a Compromise!
Quality speaks long after the price is forgotten. Our products are uniquely designed keeping pace with the latest technology, understanding customer needs and innovating constantly to attain the zenith of quality.
ISO Certification
Our Company maintains the highest quality standards in all areas including Marketing, Installation, Service, Design and Production and we have been certified ISO 9001:2008 after having successfully cleared the Audit Assessment of ICS (Asia) Pvt Ltd., as complying with the requirements of ISO 9001:2015International Standard accredited by Joint accreditation System (Australia & Newzealand).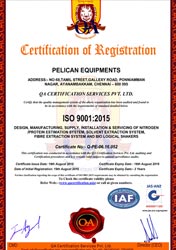 Our Credentials
ISO 9001:2015 Certified Organization

National Small Industries Corporation Certified Company issued by Government of India in par with DGS&D Registration

Branded Products Certified & Registered by Trade Mark Registry, Govt of India

All Products undergo stringent Quality Control Measures with calibration done in Electronic Test and Development Centre,Department of Information Technology, Government of India

Prestigious users in Research Institution affiliated to ICAR & CSIR, all State Agricultural Universities, BARC, DRDO, IIT's, State Government Laboratories, etc.
Our Achievements
Over 2000 Installations nation wide

Over 250 Installations in ICAR Institutions

Over 600 Installations in 33 Agricultural Universities

Over 250 Installations in Krishi Vigyan Kendras

Over 200 Installations in STL / FTL serving the farming community of our Nation.

Over 200 Installations in Veterinary & Animal Sciences Universities

Over 400 Installations in Government Departments and General Universities

Over 200 Installations in Private Industries
Our Strength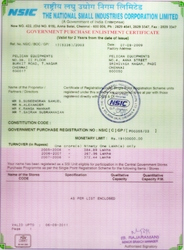 Qualified, Skilled Service Department, for prompt After Sales Service

R&D with dedicated team of Engineers and Analytical Chemists.

Application specialist to train users to achieve precise and accurate results.
Trade Mark Registration
Our KEL PLUS, SOCS PLUS & FIBRA PLUS are Patented Brand Names approved by Trade Mark Registry under Trade Marks Act 1999 (Govt. of India) which stands as a documentary evidence of standard branded product of good quality.